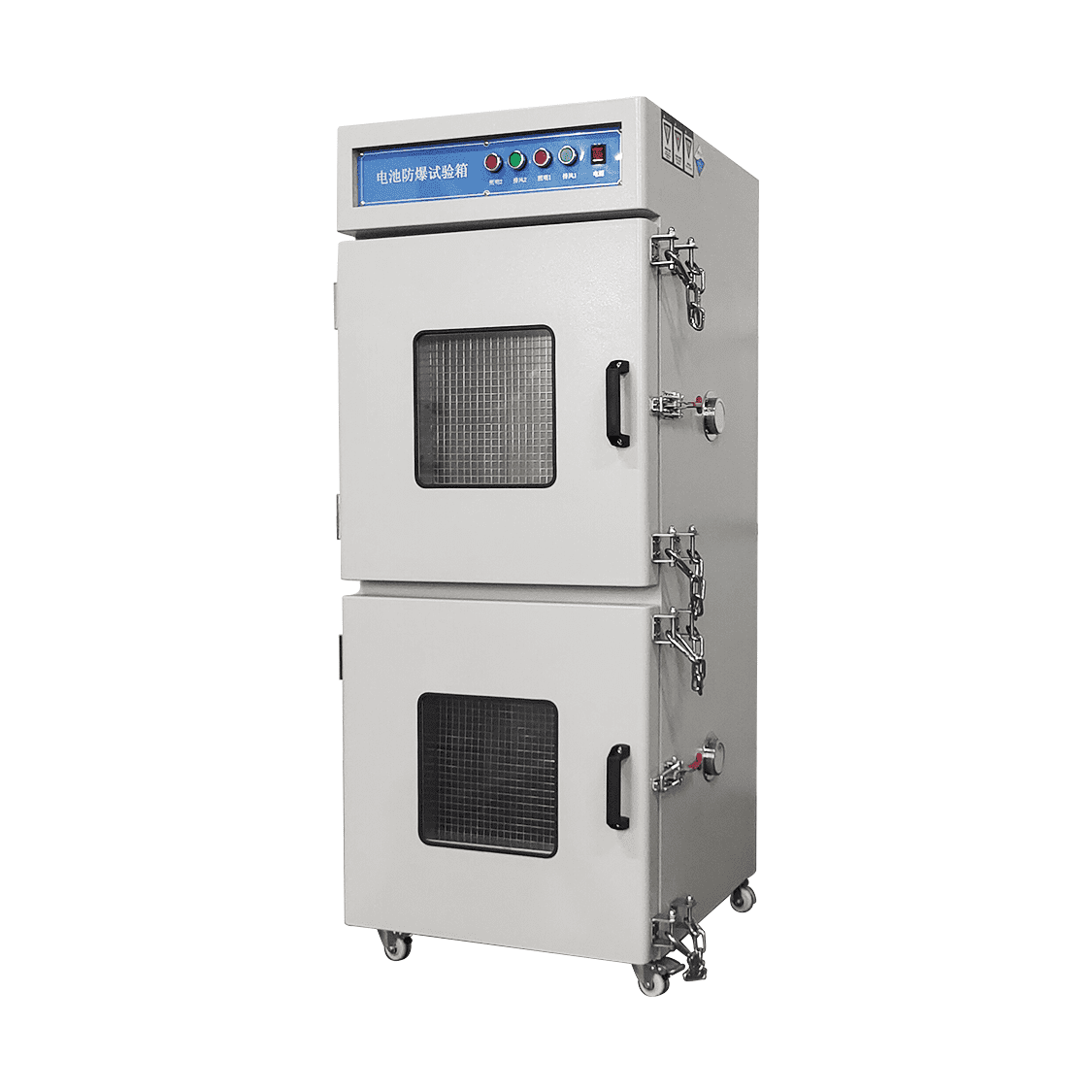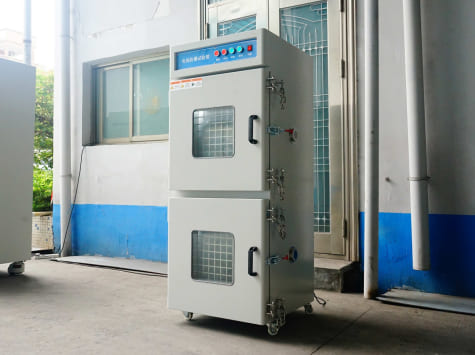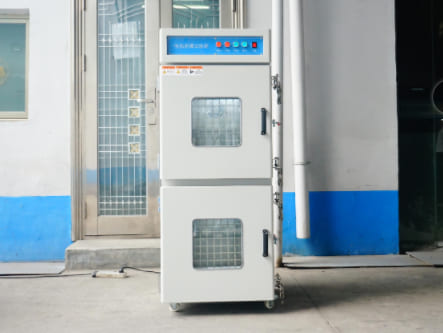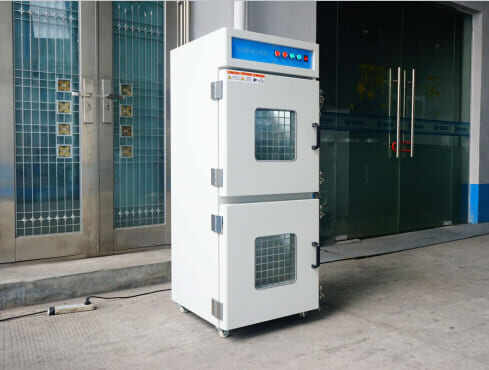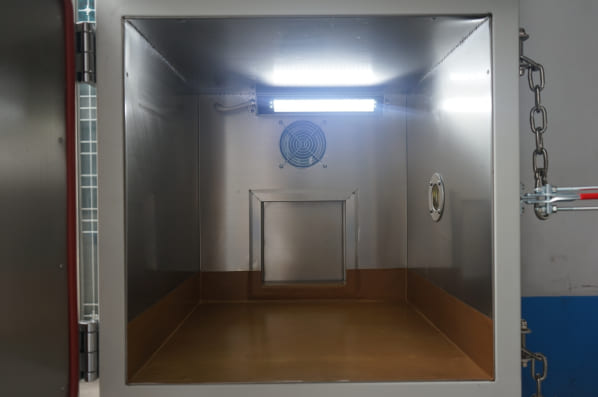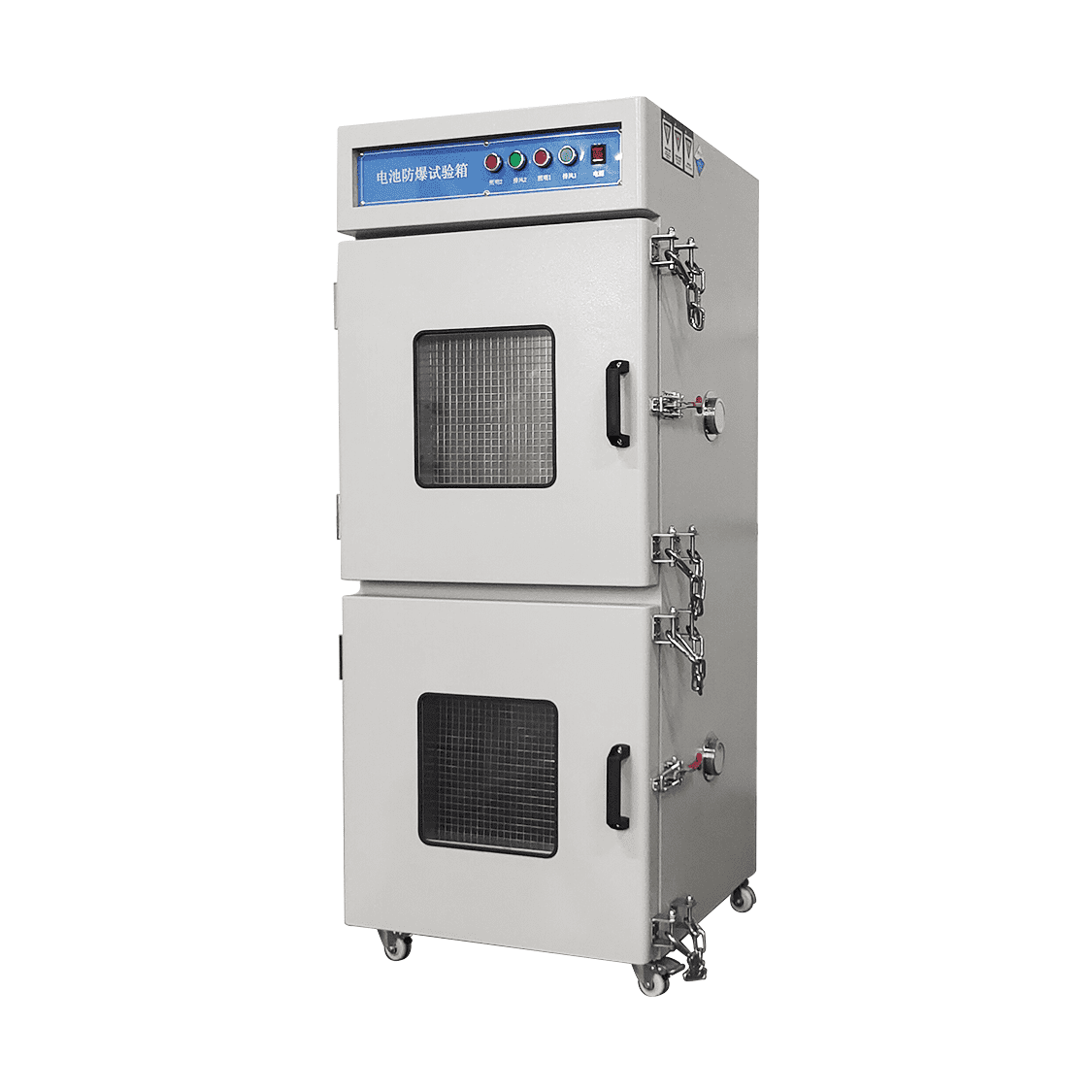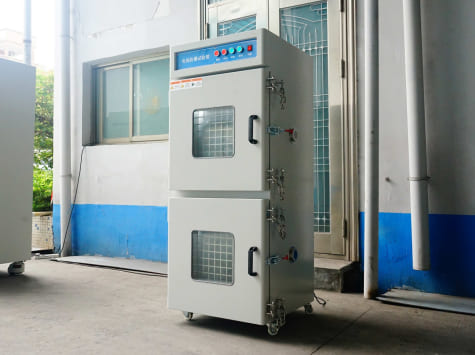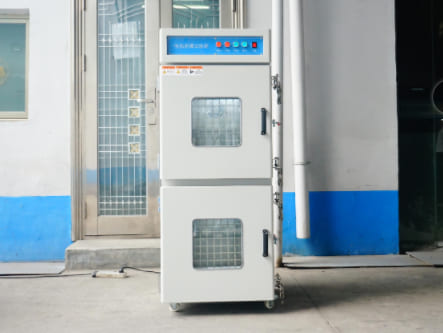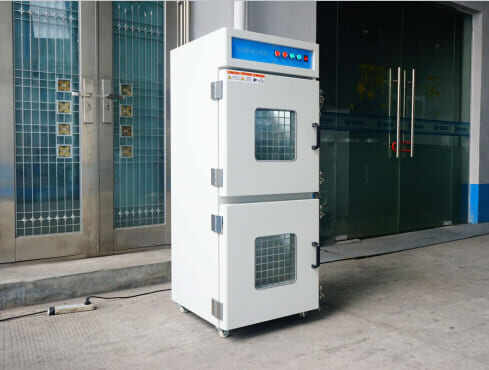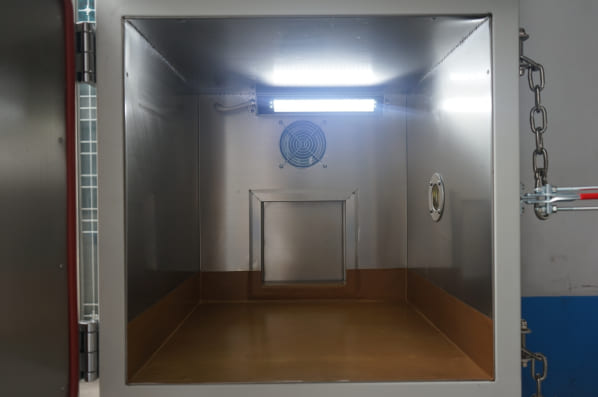 Battery Explosion-proof Test Chamber
HUD-H203
Battery Explosion-Proof Test Chamber is mainly used for over-charge and over-discharge test of the battery. During the charge and discharge test, the battery is placed in an explosion-proof chamber, and the external charge and discharge test machine is connected to protect the operator and the instrument.
Specifications
Model
HUD-H203
1. Inner box size

500x500x500mm (width x depth x height);

2. Dimensions

680x750x1475mm (width x depth x height, including door lock);

3. External material

cold-rolled steel plate with paint treatment, thickness 1.5mm;

4. Internal material

SUS#304 thickness 1.2mm;

5. Number of cabinets

2;

6. Box door

a single door opens to the left, and an explosion-proof chain is installed on the side of the box door;

7. Teflon tape is attached to the inside of the box, which is effective in insulation and flame retardant, easy to clean;

8. There are test holes on the left side of each layer of the box, which is convenient for the test connection line to pass through;

9. Each test box has a lighting and smoke exhaust interface, and there is an interval design between each layer to avoid mutual influence on the test;

10. Control mode

button control ;

11. Pressure relief door size

200x200mm; Located at the back of the box, when the sample explodes, the pressure relief port will pop open to relieve the pressure;

12. Smoke exhaust pipe

diameter φ100mm, located at the back of the box;

13. Observation window

Two-layer tempered glass with a size of 250x250mm, equipped with stainless steel mesh;

14. Equipment movement

There are four universal casters at the bottom of the equipment, which can move freely;

15. Lighting device

It is convenient to observe the state of the tested sample;

16. Power supply

1∮; AC220V; 50-60HZ
Details
FEATURES

Observation window

Silicone compression strip and explosion-proof chain handle, safe to operate

Inner material: stainless steel;outer material: cold rolled sheet and painted

Separate exhaust and lighting system

4 casters for easy movement

STANDARDS

UN38.3(2012) "Recommendations on the Transport of Dangerous Goods-Manual of Tests and Standards" Part III

IEC62133-2012 "Safety requirements for batteries and battery packs containing alkaline or non-acid electrolytes"

GB/T 31485-2015 "Safety requirements and test methods for power batteries for electric vehicles"

GB31241-2014   "Safety requirements for lithium-ion batteries and battery packs for portable electronic products"
Related Products
From the source of materials to product packaging full testing