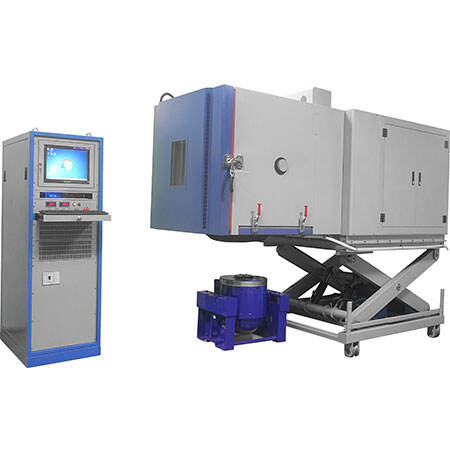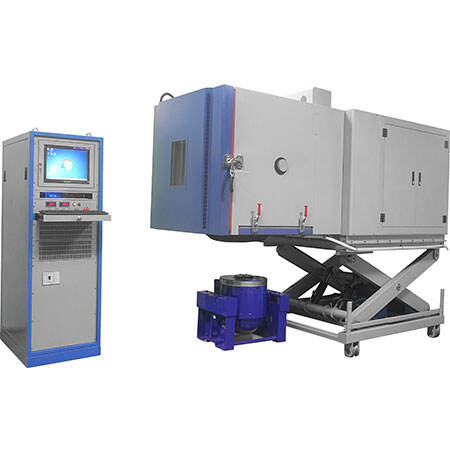 Temperature Humidity Vibration Test Chamber
HUD-E809
Temperature Humidity Vibration Test Chamber is suitable for comprehensive environmental reliability test and test of aerospace products, information electronic instruments, materials, electrical, electronic products, and various electronic components under the comprehensive environmental conditions of temperature and humidity, Reliability Qualification Test (RQC), Product Reliability Acceptance (PRAT), Routine Test, Stress Screening Test (ESS), etc.
It is suitable for high temperature, low temperature, high and low temperature cycle tests, as well as constant damp heat and alternating damp heat tests on new energy auto parts products, and can realize comprehensive tests of temperature-humidity factors.
Features
STANDARDS

IEC 68-2-1 (GB2423.1-2008)

IEC 68-2-2 (GB2423.2-2008)

IEC 68-2-3 (GB2423.3-2006)

IEC 68-2-30 (GB2423.4-2008)

IEC 68-2-14 (GB2423.22-2008)

MIL-STD-810D (GJB150.3A-2009)

MIL-STD-810D (GJB150.4A-2009)

MIL-STD-810D (GJB150.9A-2009)

FEATURES

1.The up and down movement of the equipment is realized through the lifting mechanism

2.The sealing of the connection between the chamber base and the vibration table surface, the interface connection between the test box and the vibration table surface is processed into a square bellows shape with high and low temperature resistant organic composite materials

3.Equipment configuration sealing plate, quick connection

4.It has high strength, high flexibility, high sealing, high thermal insulation performance, and can withstand high and low temperature and humidity for a long time. It adopts double-layer sealing and has good sealing effect.

5.When the test chamber is connected to the vibration table, the test chamber will automatically move horizontally to the connection position of the vibration table, and then lift to the interface connection position according to the required height, and then the temperature and humidity vibration test can be carried out with the test chamber.
Temperature & Humidity System
Item

Specification

Internal chamber dimension (W*D*H)

1000*1000*1000mm

External chamber dimension(W*D*H)

1200*3000*3800mm approx.

Temperature range

-40 ℃~ 150℃

Temperature fluctuation

±0.5℃

Temperature uniformity

2℃

Cooling speed(temp. Range: 85C~-40C)

5℃/min in average; without loading

Heating speed(temp. Range: -40C~85C)

5℃/min in average; without loading

Humidity range

10~98%RH (please refer to the below humidity curve)

Humidity fluctuation

±3%RH

Internal chamber material

SUS#304 stainless steel, mirror finished

External chamber material

Stainless steel with paint spray

Cooling method

Water-cooled

Controller

Programmable control temperature and humidity

Can set different parameter for cyclic test

Insulation material

50mm high density rigid Polyurethane foam

Heater

Explosion-proof type SUS#304 stainless steel fins radiator pipe

heater

Compressor

German Bock compressor

Refrigerant

Environmental friendly refrigerant R449A/R23

Temperature sensor

PT-100 dry and wet bulb sensor

Observation window

Tempered glass

Testing hole

2 units with diameter 100mm, for cable routing

Sample tray

SUS#304 stainless steel, 2pcs

Safety protection device

Protection for leakage Over-temperature

Compressor over-voltage and overload

Heater short circuit
2 Vibration System
Vibration Shaker

Max. Sine Force

3200Kg.f peak

Max. Random Force

3200Kg.f r.ms

Max. Shock Force

6400Kg.f peak

Frequency Range

2~3000Hz

Displacement (p-p)

51 mm

Max. Velocity

2m/s

Max. Table Acceleration

100g (without loading)

Armature Diameter

335mm

Effective Armature Mass

30kg

HE/ST screw dimension

17×M10

Max. Load Capacity

300kg

Magnetic Leakage

<10gauss

Axial Vibration Isolation Frequency

<2.5Hz

Power

Three-phase, 380V, 50Hz

Machine dimension

845mm*790mm*840mm; without expander table

Vibration controller system

Controller Hardware

No of input channels: 02 analogue channels ADC: 24-bit Resolution

No of output channels: 01 DAC: 24-bit Resolution

USB 2.0 communication port

Controller Software Modules

Random Vibration (1-5000Hz), Sweep Sine Vibration (1-5000Hz), Classical Shock,

Resonance Search, Track and Dwell

and Self Calibration

Other accessory

Test Computer: LENOVO M4500

Printer: HP 1020plus

Customer Responsibilities

Installing all utilities where required, including connecting utilities to the equipment

Installation/rigging of equipment

Completing any necessary building alterations including roof penetrations

Customers responsible for any permits required by -

local/state government
3 Horizontal Slip Table & Vertical Head Expander
Expander

Expander Size

600*600mm

Material

Aluminum alloy with hard anodized surface

Max. Work Frequency

Sine: 1000Hz

Random: 2000Hz

Weigh

32kg

Slip Table

Table Size

600*600mm

Material

Aluminum alloy with hard anodized surface

Max. Work Frequency

Sine: 1000Hz

Random: 2000Hz

Weight

35kg

Note:

1. High pressure oil-film bearing is used for better uniformity.
4 Power Amplifier & Blower
Power Amplifier

Max. Output Power

32kVA

Frequency response

>65 dB

Output Voltage

120V

Conversion Efficiency

>90%

Blower

Power

15

Air volume

0.66

Wind pressure

0.075kgf/cm2

Air horse diameter

200
Related Products
From the source of materials to product packaging full testing