How To Do Crush And Nail Penetration Test On Battery?
Battery Crush Nail Penetration Test Chamber (Battery Crush Nail Penetration Tester) is used to simulate all kinds of batteries under certain temperature conditions in use, transportation, storage and in the disposal of household waste, the battery suffers from extrusion (such as compacted garbage) or needling situation, and judge the safety performance of the battery. The battery is qualified with no disintegration, no rupture and no fire.
It meets standards of UL 1642:2012, UL 2054: 2012, UN38.3(2012),GB 31241-2014...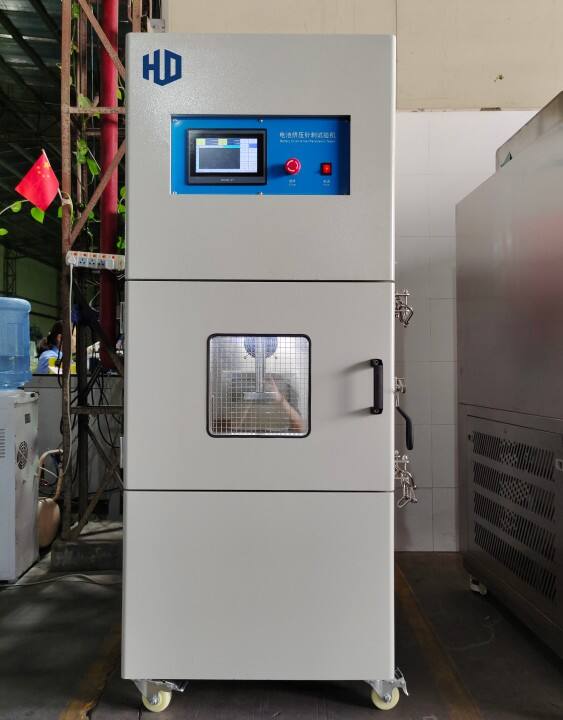 Today,we will introduce the operation process of Battery Crush Nail Penetration Test Chamber for you!
Operation Process-- 5 steps
1, Wiring
connect the three-phase four-wire 380V power supply (the machine in the line code N for the zero line, yellow-green for the ground), turn on the power switch such as the display does not show, please switch any two phases of the three-phase fire line; at the same time connected to the gas source.
2,Select test mode in the control system
Huda Battery Crush Nail Penetration Test Chamber is a three-in-one extrusion and three optional extrusion two modes (three-in-one extrusion for three conditions, while the implementation of any one condition first reach the test stop or start timing, time to reach the test stop, three optional extrusion is a choice of three conditions for the test). Note: strictly prohibited to use pressure beyond the load range, so as not to damage the pressure sensor.
3, Place battery
according to the actual need to set the test conditions after pressing the door button, place the battery, battery positive to the direction of the fan, the battery is placed in the middle of the lower pressure plate position.
4, Test
press the close button, close the door, set the test conditions according to the actual needs, press the start button.
5, Observe and end test
after waiting three to five minutes,and seeing the chamber without smoke and fire. Then open the chamber to check the battery. If battery does not explode or fire, the test is over.
Back to The List