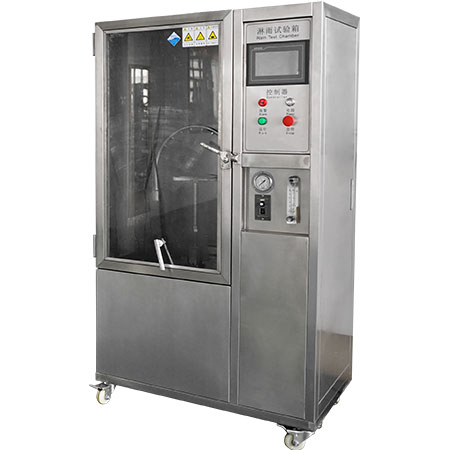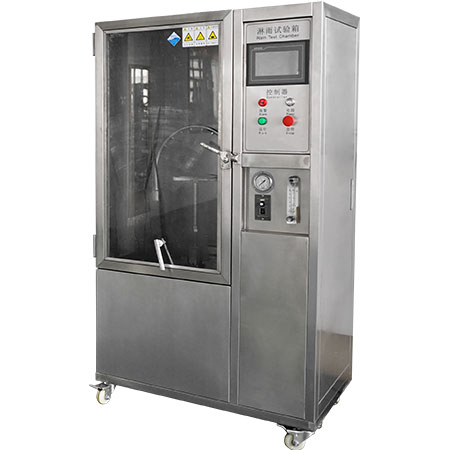 IPX3 & IPX4 Water Spray Test Chamber
HUD-E710-2
IPX3 & IPX4 Water Spray Test Chamber is suitable for simulate the water dripping, splashing and spraying test for electrical and electronic products, to check whether the enclosures and covers of samples are in good condition.
Specifications
Model
HUD-E710-2
Internal dimension

(W*D*H)1000*1000*1000mm

External dimension

(W*D*H)1300*1100*1700mm

Oscillating tube

Radius 400mm

Oscillating angle

IPX3: spray ±60° from vertical line to each side, total 120°

IPX4: spray ±180° from vertical line to each side, total 360°

Oscillating speed

IPX3: 2*120° for 4s

IPX4: 2*360° for 12s

Spray nozzle

Diameter: 0.4mm, removable

Ensure the water sprays in a line and without tolerance

Distance between two nozzles

50mm

Turntable diameter

500mm

Turntable rotation speed

1-3 cycles/min

Water flow of each nozzle

0.07 L/min +5%

Test duration

1~999h999min, adjustable

Pressure gauge

80-150Kpa

Distance from nozzle to specimen surface

200mm

Chamber material

Stainless steel, with observation window

Safety protection device

Short circuit protection, grounding protection, water shortage protection, audible and visual alarm

Power supply source

1-phase, 220V±10%, 50Hz (can be appointed)
Features
DETAILS

Chamber material: SUS stainless steel plate

Stainless steel swing pipe: the radius is R400mm, and 24±1 nozzle is evenly distributed every 50mm on the entire circumference. The pendulum tube drive device uses a motor to adjust the pendulum speed of the pendulum tube. It is realized by mechanical transmission such as motor driven reducer, eccentric wheel mechanism, gear rack and pinion. Adjust the desired angle by means of an eccentric mechanism.

Stainless steel table: with rotation speed regulation function.

Tempered glass door: can directly observe the working state of the rain.

Detachable special nozzle: made of copper, specially processed, the spray direction of each nozzle can be adjusted (within 45 ° range), and finally the adjusted nozzle can be adjusted to a plane, facing the same center point. (This is one of our know-how).

Stainless steel water supply tank: equipped with water pump, water quality filter, inlet float valve, drain valve.

Drainage hole: at the bottom of the chamber to be able to discharge quickly, no water accumulation.

CONTROL SYSTEM

High-precision LCD program controller to complete the time and sequence control of the entire system;

Imported frequency converter to control the speed effectively ensures that the test runs according to the standard;
DESIGN AS PER IEC60529
IP series
IP SERIES

IPX-1

Protected against falling water

Equivalent to 3-5mm rainfall per minute for a duration of 10 minutes. Unit is placed in its normal operating position.

IPX-2

Protected against falling water

when tilted up to 15 degrees - Same as IPX-1 but unit is tested in 4 fixed positions - tilted 15 degrees in each direction from normal operating position.

IPX-3

Protected against spraying water

Water spraying up to 60 degrees from vertical at 10 liters/min at a pressure of 80-100kN/m2 for 5 min.

IPX-4

Protected against splashing water

Same as IPX-3 but water is sprayed at all angles.

IPX-5

Protected against water jets

Water projected at all angles through a 6.3mm nozzle at a flow rate of 12.5 liters/min at a pressure of 30kN/m2 for 3 minutes from a distance of 3 meters.

IPX-6

Protected against heavy seas

Water projected at all angles through a 12.5mm nozzle at a flow rate of 100 liters/min at a pressure of 100kN/m2 for 3 minutes from a distance of 3 meters.

IPX-7

Protected against water immersion

Immersion for 30 minutes at a depth of 1 meter.

IPX-8

Protected against water submersion

The equipment is suitable for continual submersion in water under conditions which are identified by the manufacturer.

IPX-9

Protection against high-pressure water splashes

The water pressure should be 8–10 MPa (80–100 bar) at distance of 0.10–0.15 meters.The water temperature should be 80 °C.
Related Products
From the source of materials to product packaging full testing